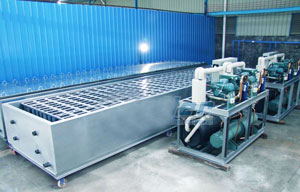 Ice Block Machine-MB100
Product Introduction: MB100 Ice Block Machine/ Block Ice Making Machine
1. Capacity: 10tons in 24hrs
2. Block size; 10kg, 15kg, 20kg, 25kg
3. 378 pieces of 25kg/24hrs
MB100 has 10 tons capacity for the production per day, we design the block for 10kg, 20kg or 25kg.
It has 378 pieces of 25kg per day, this machine has three parts: The ice block machinery unit, water tank and cooling tower.
Specification:
Ice Blcok Machinery Unit: 2780mm*1200mm*1550mm;
Water tank: 6080mm * 1700mm * 1100mm;
Cooling tower: 1800mm*1800mm*2000mm.
Product Features:
1. Block ice size: 10kg, 15kg, 20kg, 25kg
2. Material: adopt stainless steel with special processed;
3. Reasonable and separated design for the structure, save space, easy to install.
4. Easy installation and operation, module structure, easy to move and install, meanwhile, easy to harvest ice.
5. All dimensions of ice block machine are designed according to international standard size of the container, very easy and convenient for transportation.
Product Model:
Model

Capacity

(Ton/24Hrs)
Compressor Power (KW)
Supply power
Dimension (Length*Width* Height) (mm)
Voltage/Hz/Phase
MB50
5
18.8
380/230
50/60
3
4250
1470
1100
MB60
6
22.5
380/230
50/60
3
4800
1470
1100
MB80
8
30.0
380/230
50/60
3
5000
1680
1200
MB100
10
37.5
380/230
50/60
3
5550
1700
1300
MB120
12
45
380/230
50/60
3
6080
1770
1600
MB150
15
56.3
380/230
50/60
3
6880
1800
1700
MB200
20
75.0
380/230
50/60
3
9690
1970
1700
Refrigerant: R22 or R404a;< Cooling way: Water cooling system & Air cooling system;
Standard working conditions: input water temp: 16 ℃, Ambient temp: 25 ℃, Evaporating temp: -10℃, Condensation temp: 40 ℃.
Supply power: 380V, 50Hz/60Hz, 3P or 220V~ 240V, 60Hz, 3