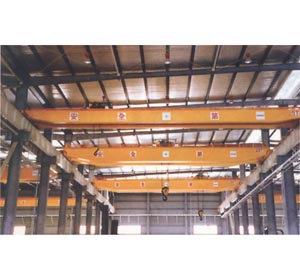 Capacity:5-500tons
Hoisting hight:3-32 meter
Span:3-35 meter
Hoisting speed: According customer's need.
Travel speed:According customer's need.
Power source: 380V 50HZ
Others according the customer requirement.
LH Type Electric Hoist Double-girder Overhead Crane Bridge Crane is fitted with electric hoist as lifting mechanism. Our overhead bridge crane is a simpler one among all the overhead cranes. Its advantages cover such aspects as light weight, easy manufacture, and convenient operation etc.
Our overhead crane is widely used in many areas, general service such as loading, unloading, lifting, transferring working, machinery, manufacture, metallurgy, petroleum, petrifaction, port, railway, civil-aviation, food paper making, construction, electronics industries workshop, warehouse general service such as loading, unloading, lifting, and transferring working and other material handling situations, etc. Applied to material handling that need precise postioning, large components precise assembly situation. Also has many controlling methods, namely ground controlling and room controlling. We promise our overhead crane, bridge crane. Overhead bridge cranes got the best quality and the reasonble price, and with our products, your project will be perfect.