If factory space is the challenge for your company´s growth, our double-deck rollformer offers you a great possibility to get the best out of your premises. Our double deck rollformer enables you to manufacture two different profiles on one Rollformer. Shifting from one profile to the other is very simple. The sheet entry table and stacker are hydraulically ascending and descending. Both can be operated manually either by conveniently positioned buttons or from the control panel.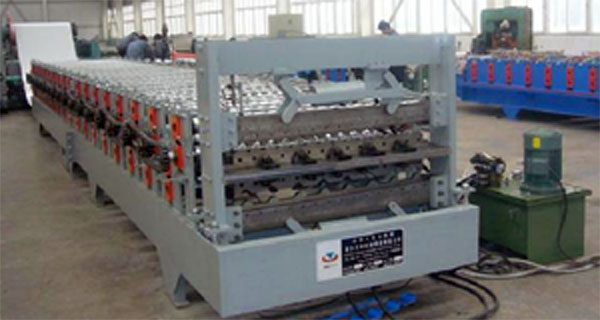 MATERIAL:
(1)Coil Width: 1220/1350mm
(2)Suitable Coil Thickness: 0.3-0.7mm
(3)Suitable Raw Materials: Pre-painted coil (Q235A); Yield bearing stress: 235 Mpa
MACHINE COMPONENTS:
(1) 5 Tons Hydraulic Un-coiler 1 set
(2) Double Layer Roll-Forming M/C 1 set
(3) Hydraulic Cutting 1 set
(4) PLC Control System 1 set
(5) Product Rack (un-powered) 1 set
TECHNICAL SPECIFICATION
(1)5 Tons Hydraulic Un-coiler:
Hydraulic system to expand coil inner hole;
Frequency Inverter to regulate turning speed,
Automatic stop device;
It has single head; max.capacity: 5000kg;
Coil inner-diameter: 508mm
It expanded by hydraulic.
It ran by electrical.
(2) Roll-Forming M/C:
About 18-steps to form, and after cutting there are more 3 steps;
Material of Roller: 45# steel with chromizing on surface
Voltage:380V/50Hz; Main line speed:about 12m/min;
The machine only can produce one profile at the same time.
(3) Hydraulic Cutting:
Stop to cut, Post cut,
Cutting tool material: Cr12, Heat treatment
(4) PLC Control System:
Using Mitsubishi PLC Control the quantity, length automatically, LCD screen,
(5) Product Rack (UN powered)
Hydraulic un-coiler