LYZX18 Microtherm Oil Press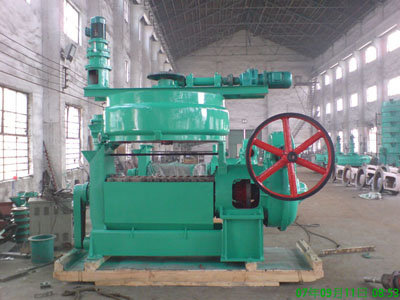 Performance features of LYZX18 Microtherm Oil Press
LYZX18 Microtherm Oil Press had Compact structure, convenient management, robust and durable
LYZX18 Microtherm Oil Press has compact structure, with relatively high production capacity. The floor area consumption is moderate. LYZX18 Microtherm Oil Press is robust and durable, convenient to operate. The amount of feeding, oil outflowing, thickness of cake can be all directly inspected and controlled by pulling conic choke adjusting handle and feeding header handle. The transmission gearbox of LYZX18 Microtherm Oil Press is oil-bathed, all the gears have been hardened by heat treatment. The main screw shaft is made of high-quality alloy steel so the machine can stand long-term hard work. Important pressing worms and cage bars of LYZX18 Microtherm Oil Press have gotten carburization so are quite sturdy and durable under day and night abrasion.
Self-equipped conditioning tank
To make the temperature and water content of kernel flakes is proper for press so as to get high oil yield, LYZX18 Microtherm Oil Press is self-equipped material regulator, a steam-jacketed cooker( conditioner ), which can heat the vegetable seed material to necessary oil outflow temperature and water content so as to get proper oil production.
Automatic continuous working
Oilseeds are discharged through inlet of LYZX18 Microtherm Oil Press (1), into the jacketed cooker of LYZX18 Microtherm Oil Press (2), then be stirred by scraper bar and heated by steam, fall through the outlet (3) into feeding header (4), and enter the pressing cage (5), then suffered continuously extrusion from every pressing worm of the worm shaft, the oil is pressed out, flows into foots screw conveyor then be send into oil reserving container. The cake is discharged from the cake outlet. The whole LYZX18 Microtherm Oil Press process goes automatically and continuously from beginning to end. After setting up the amount of oilseed input, the temperature, moisture content and the thickness of the cake when starting the machine, afterwards you only need to pay attention to the feeding of LYZX18 Microtherm Oil Press (adjust by pulling the handle of feeding header), the ampere meter and pressure meter to assure the long-term continuous work of the expeller, so the management is easy and labor force consumption is saved.
Main specifications of LYZX18 Microtherm Oil Press
Production capacity of LYZX18 Microtherm Oil Press: ( material processed every 24 hours)


| | | |
| --- | --- | --- |
| Oilseed Name | Capacity(T/D) | Residual Oil Content in Dry Cake(%) |
| Hulled Rapeseed Kernel | 4-6 | 7-11 |
| Peanut Kernel | 6-9 | 5-8 |
| Chinaberry Kernel | 6-8 | 9-11 |
| Perilla Seed Kernel | 4-6 | 7-11 |
| Sunflower Kernel | 4-7 | 6-10 |

Capacity data of LYZX18 Microtherm Oil Press in above table refers to general oil factory which has complete oilseed pretreatment equipments and the oilseed have been dried. Because of the kind of the oilseed and the difference of oil content and working conditions, data in above table will float up or down.
3.2 Specifications of LYZX18 Microtherm Oil Press:


| | | | |
| --- | --- | --- | --- |
| Model | Size(L*W*H)(m) | Net Weight(Kg) | Required Motor Power(Kw) |
| LYZX18-1 | 3.126*1.85*3.43 | 4200 | 22+4+3 |

The model LYZX18 Microtherm Oil Press refers to the diameter of the pressing cage (cm) and number of layers of cooker.