China Feed HammerMill, Feed Hammermills .
Water Drip Figure Vibrate Feed Hammermill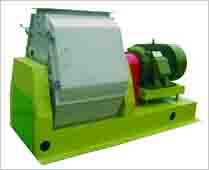 (1)Crush raw materials such as corn,cotton seeds waste,bean waste.95% of the raw materials can get through 60 meshes, no block.
(2)The efficiency of the production is top-A in the world.When the screen vibrates,the efficiency could be increased by 20-300%.According to the experiment,use 75Kw vibrate hammer mill,impulse fan 5.5Kw, 1.2mm in diameter of the mesh, the capacity of crushing corn is 6 t/h.Degree of fineness:98% get through 24 meshes(0.85mm), 80% get through 65 meshes, 49% get through 80 meshes.
(3)Auxiliary facilities are as simple as the ordinary water drip hammer mill.The power doesn't increase. So it's very easy to update the old machine.
(4)The machine is stable and reliable.Vibrator,elastomer,screen can be replaced outside the machine.
| | | | |
| --- | --- | --- | --- |
| Model | SFSPZ7 0 × 75 | SFSPZ112 × 75 | SFSPZ130 × 75 |
| Power(KW) | 75/90 | 110/132 | 160/200 |
| Copachy(t/h) | 5.5-6.5 | 8-10 | 11-15 |
SWFL Super Micron Feed Hammermills


1, A vertical-screen smash, compact, small footprint;
2, Ginding and classification at the same body can be crushed at the same time, grading, then it is the process of smashing , finished granularity reach 60 to 200 mesh, uniform size;
3, The classification system with the optimization design, grading with high efficiency;
4, The observation of the door structure, and easy to maintain;
5, With th optional hydraulic opening, the body can quickly smash open the room to facilitate maintenance or replacement;
6, Equipped with a variety of sensors, more reliable equipment operation;
7, With special muffler, the noise can be significantly reduced.
8, The unique breaking arch feeding device to prevent feed materials at the end arch;
9, Can be used in corn, wheat, fish meal, shell, defatted soy, monosodium glutamate, glucose, pharmaceuticals, dyes intermediates, activated carbon, and other materials AMD smash
| | | | |
| --- | --- | --- | --- |
| Model | SWFL82B | SWFL110B | SWFL130B |
| Capacity | 1.2-2.2 | 1.8-3.0 | 3.0-5.5 |
| Main Motor Power(kw) | 90 | 110 | 132/160 |
| Rotor Diamete(mm) | 820 | 1100 | 1300 |
| Grading Motor Power(kw) | 5.5 | 7.5 | 11 |