Flour Mill Equipment,Flour Equipments,Flour Milling Plant for Sale
Specifications: 6FTS-9A, 12A Single Flour Mill Equipment,Flour Equipments,Flour Milling Plant

Features: 6FTS-9A,12A developed by our company's engineer,based on 6FTS-7A,7B, are new single machines.

The single Flour Mill Equipment consists of wheat cleaning system and flour system. Wheat cleaning system uses a set of air-transporting cleaning machine. The flour milling plant system is composed of good quality, high speed roller mill, flour extractor supported by four poles, blower, air seal and pipes. Flour Equipments own these new characteristics:
1. Having a compact structure, beautiful appearance and easy to operate. Feeding material automatically,reduced labor intensity.
2. In a very simple way,the feeding is effected automatically and the continuous milling is realized, so labor is saved.
3. Conveying by air can decrease dust and improve the working environment.
4. Using high speed roller mill can improve production efficiency.
5. Using three feeding rollers to feed material and the flowing is more smoothly.
6. Easy to install, little investment and rapid effect
.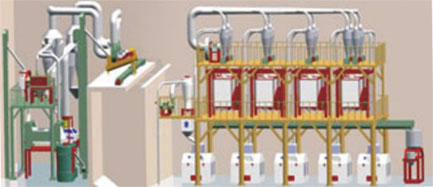 keywords:Flour Mill Equipment,Flour Equipments,Flour Milling Plant