Here are the ideal popper for theater or your home theater experience. They features 3 oz or 8 oz stainless steel kettle, tempred glass windows. twin arm kettle suspension and removable kettle. Easy to operate and clean, eye catching.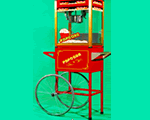 Table top design and popper make carter design are available with different color combinations. Except model GC906 and GC908 have heat lamps for warming, all other popcorn machine offer heated popcorn deck, this helps popcorn that has already been popped stay warm until it is served.
Our popcorn machine can be plugged into any household electrical outlet.