Plate Filter Press is a kind of oil filtrating facility matched with all kinds of oil press, mainly used to separate the oil and residue from the first vat oil. The filtrating cloth between the filter plates forms many rooms. The oil under the pressure goes through the filtrating cloth, gets out from the faucet beneath the filtrating cloth. The plate filter press is qualified the technology requirements of the IB/T 4333-1997 the pressure oil-filter in compartmental and plate type.
| | | | | | | | |
| --- | --- | --- | --- | --- | --- | --- | --- |
| Model | No.of filter plates | Dimension of filter plate | Working pressure | Productivity | Power | Dimension | Weight |
| YLY-250 | 13pcs | 250*250mm | 0.3-0.4MPa | 100kg/h | 0.75kw | 780*530*670mm | 155kg |
| YLY-350 | 25pcs | 350*350mm | 0.3-0.4MPa | 200kg/h | 1.1kw | 1300*750*700mm | 470kg |
We manufactures the vacuum oil-filter, plate filter press and centrifuge oil-filter, the products characterize by advanced design, filling at the price. Mainly use in the filtrations for the first vat oil from the oil press in screw type, capable to form a line with Model 68, 80, 95, 100, 120 oil press.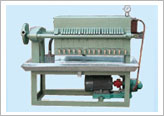 Operational technics of the plate filter press:
While plate filter press is in the state of working ,all the pipe clips should be tightened to prevent the oil from leaking. Filtering cloth should be put between the filter plates, and then lightened by tension bolt to make sure no leakage exists. Under the normal operation, the oil will come out 2 or 3 minutes after starting the machine. If no il comes out , please stop the machine or inspection that if the oil pipe is clogged up or not. Under the filter piate. The valve is mounted which will be used when some filtering cloth is broken or the oil looks dirt.
We supply a wide range of filter presses, which are designed to give maximum filtration efficiency, longer life and least maintenance. Available in different sizes and with varied capacities, we can also provide filter press in custom specifications.