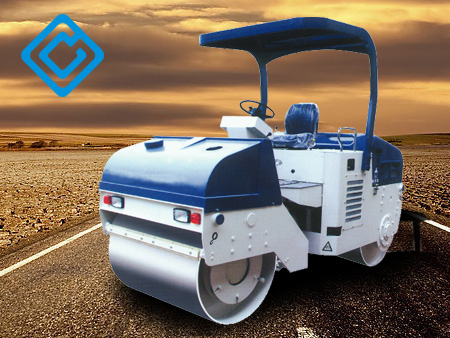 GMC-DD06 large size road roller adopts mechanical driving, hydraulic vibration, articulated and hydraulic steering with easy operation, reliable performance, and cost performance.
Sludge scrapers and sprinkling devices on both drums help to develop the quality of road construction.
The compact design, small size and beautiful appearance of GMC-DD06 vibratory road rollers are suited for compaction of narrow areas.
High quality and high efficiency ChangChai diesel engine features large power storage, reliable performance, stable quality, low fuel consumption, convenient operation and maintenance.
Data of GMC-DD06 Road Roller
Weight
Operating mass: 6000kg
Front axle mass 3600kg
Rear axle mass 2400kg
Static linear load 288N/cm
Dynamic linear load 192N/cm
Total linear load 672N/cm
Overall dimensions
Overall dimensions (LXWXH) 3460X1480X2730mm
Drum width 1250mm
Drum diameter 950mm
Wheelbase 2479mm
Vibration
Vibration frequency 50Hz
Vibration amplitude 0.5mm
Machine specification
Min. steering radius 6000mm
Min clearance 386mm
Diesel Engine
Engine model ZN490Q
Type 4-stroke direct injection
Diesel speed 2600r/min
Drive
First speed 2.5km/h
Second speed 7km/h
Grade ability 20%
We are specialized in producing high quality vibratory road rollers, road roller compactor, large size road roller with best price and good service! Welcome to order!