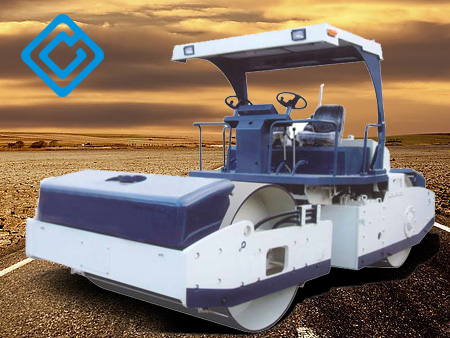 This GMC-DD08 smooth-drum road roller is a kind of mechanically driven hydraulic vibrating roller which is manufactured in accordance with advanced foreign technologies and on the basis of selecting top-quality domestic critical parts and components. This Static Roller feature strong engine power output capacity, large power output reserve capacity, wide rolling wheel, high operation efficiency, novel design, compact structure, reasonable layout and beautiful shape.
These vibrating roadrollers are general compaction equipments for highway, municipal road, parking area and industry ground etc, which is suitable for asphalt compaction, soil compaction, sand stone mixtures and dry cement compaction.
GMC-DD08 Smooth-Drum Road Roller adopt mechanical driving, hydraulic vibration, articulated and hydraulic steering with easy operation, reliable performance, and cost performance.
Spacious and comfortable cab is with dual operator seats and dual steering wheels.
The engine of our static roadrollers are Dongfeng Cummins diesel engine, and it is an environment-production, and low fuel consumption. Additionally, with cold start feature.
Data of GMC-DD08 Smooth-drum Road Roller
Diesel engine
Model 4BT3.9-C60
Hydraulic tank capacity 150L
Front water tank 450L
Rear water tank 450L
Vibration
Vibration amplitude 0.35mm
Vibration frequency 48HZ
Weight
Operating mass 12000kg
Front module mass 5400kg
Rear module mass 6600kg
Static linear load 277/338N/cm
Machine specification
Steering angle 30 degree
Inside turning radius 4050mm
Outside turning radius 6000mm
Tread width 3240mm
Ground clearance 300mm
Drive
1st speed 2.5km/h
2nd speed 5.5km/h
Grade ability 25%
Machine dimension
Overall dimensions (LXWXH) 5540X2206X3000mm
Drum width 1950mm
We are specialized in producing high quality smooth-drum road roller, static rollers, and roadrollers with best price and good service! Welcome to order!