Hot-Rolled Seam Free Carbon Steel Tubes Manufactured by Chengde Wangli Steel Tube Co., Ltd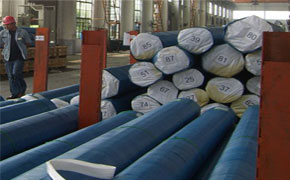 1. Technology:
Materials Feeding--Uncoiling---Smoothing---Butt Welding--Storing Loop Units--Forming---High-Frequency Straight
Seam Welding (on line inside and outside burr removal) ---On line ultrasonic & radiographic testing---Sizing Sawing---
-Heating-Furnace---Stretch---Reducing Mill---Sawing---Cooling Bed---Hydrostatic Test---Inspection—Packing.
2. Technology Characteristics:
The main equipment was imported from Germany in 1990's. Contiguous storing loop units ensures the contiguous
rolling of the parent tubes, 40 meters long parent tubes are produced adopting technological advanced High-Frequency Straight Seam Welding techniques, on line inside and outside burr removing ensure the stability of good quality. The parent tubes are heated up to 950-1050 degree centigrade by 5 section contiguous spiral gas-fired furnace, then tubes of various diameter and thickness of seam free tubes are produced by 24 passes Stretch-Reducing Rolling Mill automatically, the welding microstructure is completely recrystallized. The precision of the final products is better than seamless carbon steel tubes by traditional ways.
The Hot-Rolled Seam Free Steel Tubes produced by this technology is essentially different from the general High-Frequency Straight Seam Welding pipe. Now it's a wide-used technology to produce high strength and high quality non -seam welding pipe instead of seamless steel pipe or hot-rolled seamless steel pipe in Europe. All Hot-Rolled Seam Free Steel Tubes are produced according to international standards.
Especially, with the rapid development of the technology (Online Middle-Frequency Annealing disposal and online burr removal), Seam Free Steel Tubes are nearly equal to seamless steel pipe in physical properties and in shape. While seamless steel pipe is gradually in inferior position in the competition with seam-free welding pipe, because of the below characteristics of seamless steel pipe: poor forming precision, more materials using(wall thickness/ diameter>0.2%) and difficult to be welded. So many countries in the world prefer to seam-free welding pipe than seamless steel pipe. Developed countries adopt the non-seam pipe technology in producing liquid pipes.
We can supply product about :1.Structural Steel Pipe 2.Fluid Pipe 3.L-M-P Boiler Pipe