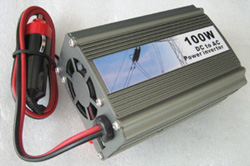 GC-01
When DC12V inputs AC110V/60HZ or AC220V/50HZ corrected sine wave outputs, Maximum 100W for 15mins,80W continuous output power and 160W surge power. Optimize for running or recharege notebook computer, digital camera, mobile phone, and camcorder in car. Powerful use. Uniersal plugs output, sharing alloy shells. Light weigth, pocket siz, durability. Low-interference technology to prevent television, display and audio interference, and give full play to the energy battery. Make users easily start non-resistance load, being securing with the all-fuction protection circuit . With unique design of high-speed air-cooled, the inverter fully load for a long time, and the surface isn't in high temperature.
Thermal protection: The unit shut down when it overheats.
Leakage Protection : the unit automatically sense, and stop AC output when the load on earth leakage
Battery low-level alert : The inverter-alarm to remind users of timely charge when the battery discharge to 10.6V level.
Battery low-level protection : The unit shut down when battery discharges to 10V and prevent damage to battery.
Overload protection: The unit shut down when the loading power exceeds the rating power.
Short circuit protection: The unit shut down when output is short circuit.
Automatic reply function : When all the fault (except for leakage protection) removed, the output automatically reply, convenient operation.
Dimensions (mm) : 130 × 115 × 45 Weight : 240g with compression packaging , light weight and beatuful exterior.