Kiwi also called Gooseberry. Dried kiwi slices contain numerous phytonutrients as well as well known vitamins and minerals. They are excellent as a convenient and healthy snack.
Dried kiwi slices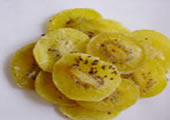 Origin: China
Package: in 12.5kgs carton inner with food grade poly bag .
Specification: SO2: 100ppm max
Sugar: 65% max
Moisture: 18-22%
Recipe:

Kiwifruit Walnut Bread

Ingredients

2 cups sifted flour
1/2 cup sugar
2 teaspoons baking powder
1 teaspoon basking soda
1/2 teaspoon salt
1 1/2 cups chopped and drained kiwifruit (about 4 kiwifruit)
3/4 cup chopped walnuts
1 egg, beaten
1/4 cup (1/2 stick)butter or margarine, melted
1 teaspoon vanilla extract

Directions:

Sift flour with sugar, baking powder, baking soda and salt into large bowl. Add kiwifruit and walnuts; mix well. Add eggs, butter and vanilla. Stir until just blended. Turn into greased and floured 9-by-5-by-3 inch loaf pan. Bake at 350 degrees until done, about 1 hour. Cool in pan 5 minutes, then turn onto rack to complete cooling. Serve in thin slices. Perfect spread with softened cream cheese.
Health Tips

Kiwifruit is a rich source of vitamin C. Its potassium content by weight is slightly less than that of a banana. It also contains vitamins A and E. The skin is a good source of flavonoid antioxidants.