The kumquats or cumquats have been called "the little gems of the citrus family". Kumquats are the jewels of the citrus family. The flavor of this small oval fruit has a unique sweet-tart taste. The dried kumquats, also are the ideal for snacks and parties.
we can provide dried kumquat with or without sugar outside, in round or long shape, orange or yellow color.
Dried kumquats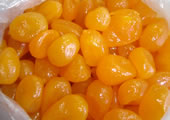 Origin: China
Shape: Round and Long shape
Color: Orange and yellow color
Package: in 12.5kgs carton inner with food grade poly bag .
Specification: SO2: 800ppm max
Sugar: 75% max
Moisture: 18-22%
Recipe:
Sweet & Hot Kumquat Relish
Ingredients
2 cups kumquats, sliced crosswise
½ cup dried apples, roughly chopped
½ cup dried apricots, roughly chopped
2 tablespoons crystallized ginger, roughly chopped
½ cup light brown sugar
2 tablespoons honey
1/8 teaspoon cinnamon
1/8 teaspoon ground ginger
2 tablespoons cider vinegar
¼ cup golden raisins
¼ teaspoon dried red pepper flakes


Directions:
Combine all ingredients in a small saucepan. Cook over very low heat for 10-15 minutes until fruits have softened and flavors have combined.
Tips:
Culinary uses include: candying and kumquat preserves, marmalade, and jelly. Kumquats appear more commonly in the modern market as a martini garnish, replacing the classic olive. They can also be sliced and added to salads. A liqueur can also be made by macerating kumquats in vodka or other clear spirit.