As one of our most delicious dried fruit, dried strawberries or dehydrated strawberries are a universal favorite! Excellent for cereals, muffins, cakes and snacks.、
Our dried strawberries is good free flowing .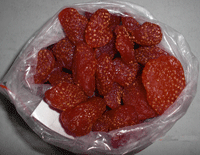 Dried strawberries,Dehydrated Strawberries
Origin: China
Package: in 12.5kgs carton inner with food grade poly bag .
Specification: SO2: 100ppm max
Sugar: 65% max
Moisture: 18-22%
Dehydrated Strawberries Nutritional Info
1/3 cup (40g)
Servings Per Container: 3

Calories 130

Calories from Fat 0

Total Fat 0g

% Daily Value*
0%

Saturated Fat 0g

0%

Trans Fat 0g

Cholesterol 0mg

0%

Sodium 10mg

0%

Total Carbohydrate 30g

10%

Dietary Fiber 4g

16%

Sugars 23g

Protein 1g

Vitamin A 2%

Vitamin C 4%

Calcium 2%

Iron 4%

*Percent Daily Values are based on a 2,000 calorie diet. Your daily values may be higher or lower depending on your calorie needs.
Recipe:

1.Dehydrated Strawberries Ingredients
1/2 to 3/4 cup driedi Strawberries
1 large fresh Banana
1/2 cup Wild Blueberries
1/4 cup Frozen orange juice concentrate
1 to 1 1/2 cups Non-fat milk or low-fat milk 2 tablespoons chocolate syrup
1 cup milk
3/4 cup strawberry yogurt

2.Directions
Toss all ingredients in a blender and mix until desired thickness.
Health Tips
1. One cup of dried strawberries contains 4 grams of dietary fiber. A diet high in fiber can have benefits throughout life. Dietary fiber has well-known health benefits such as lowering blood cholesterol and promoting a healthy digestive system. In turn this may decrease the risk of heart disease and certain types of cancer.
2. Strawberries have only 50 calories per serving and no cholesterol or saturated fats, making them a great healthy snack or addible to any meal.