SUNFLOWER SEEDS
The Red Indians of America cultivated sunflowers long before Europeans discovered them. At present, the Russians are the largest sunflower seed producers in the world. The seeds have a hard black-and-white striped shell that must be removed (either in or out of the shell), and are sold either plain or salted. They can be eaten as a snack, used in salads or sandwiches or added to a variety of cooked dishes or baked goods. The iron-rich sunflower seeds are, by weight, 47 percent fat and 24 percent protein. The pale yellow, delicately flavored sunflower-seed oil extracted from the seed contents very high polyunsaturated fat and low in aturated fat. Though it has a relatively low smoke point, sunflower-seed oil is used in cooking as well as for salad dressings.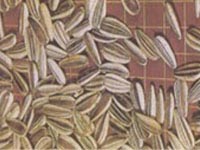 Specification: Admixture 3% max Packing: in poly-woven bags of about 45kgs net each. Besides big sized and
small sized three-striped sunflowerseeds, we can also supply sunflowerseeds for crushing oils and sunflowerseed kernels all the year round.