Small and Big Pellet Presses Machine to Produce Wood Pellets in China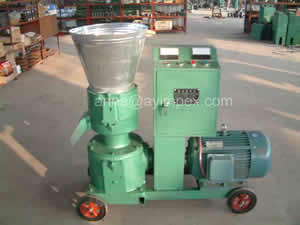 The granulator can produce pellet from sawdust and other kinds of material.
With the fast development of Wood Pellets industry, Wood Pellet Press becomes very popular in the world. It has the advantage of low price, low consumption, high capacity; etc.It is a good choice for small farm family. And it is one kind of energy source machines which can process wood sawdust, wood lump, etc agro-waste resource.
Our Flat Die Pellet Press can process wood sawdust, straw, different kinds of stalks, grass, etc.The best moisture content for pelletizing is between 13%-15%.
Type

Power (Kw)

Capacity

Kg/h)

Dimension (mm)

NG/GW

(kg)

Note

ZLSP 200

Die for ZLSP 200

Rollers for ZLSP 200

Three phases,7.5

80-120

1130*480*920

210/240

Complete machine

ZLSP260

Three phases,15

150-200

1220*520*820

250/390

Complete machine

Die for ZLSP260

Rollers for ZLSP260

ZLSP300

Three phases, 22

200-250

1220*600*1000

500/580

Complete machine

Die for ZLSP300

Rollers for ZLSP300

ZLSP400

Three phases,30

350-450

1320*600*1050

600/690

Complete machine

Die for ZLSP400

Rollers for ZLSP400