Manufacturer and Supplier of China Hammermill Manufacturer and Supplier:Feed and Wood Hammermills, Feed Hammermills
Complete feed mills,plants and machines
Pellet Hammermills, Feed Hammermills : used in the grinding of animal, pet, livestock, poultry, aquatic and other feed ingredients ,China pellet hammermills, feed hammermills.
(1)Crush raw materials such as corn,cotton seeds waste,bean waste.95% can get through 60 meshes, no block.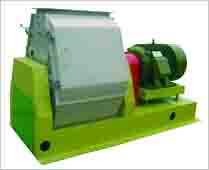 (2)Production efficiency is one-up in the world.When screen vibrates,the efficiency could be increased by 20-300%;By experiment,use 75Kw vibrate hammer mill,impulse fan 5.5Kw,mesh diameter 1.2mm,
the capacity to crush corn is 6 t/h.Degree of fineness:98% get through 24 meshes(0.85mm),80% get through 65 meshes,49% get through 80 meshes.
(3)Auxiliary facilities are the same simple as ordinary water drip hammer mill.The power doesn't increase. So it's very easy to update the old machine.
(4)The machine is stable and reliable.Vibrator,elastomer,screen can be replaced outside the machine.

| | | | |
| --- | --- | --- | --- |
| Model | SFSPZ7 0 × 75 | SFSPZ112 × 75 | SFSPZ130 × 75 |
| Power(KW) | 75/90 | 110/132 | 160/200 |
| Copachy(t/h) | 5.5-6.5 | 8-10 | 11-15 |