Manufacturers of Pellet Mill Machine from China.Pellet Mill for Sale

ASCOF Pellet Mills ,We are a veritable Pellet Mills Manufacturer based in China. Our range of robust quality Pellet Mill Machine is far famed for its high efficiency. We also manufacture and export excellent quality hrizontal pellet mill. Our pellet mills are performing very well in flied of animal feed, poultry feed, rabbit feed, aqua feed, solvent oil mills etc. Lastly we offer very reasonable prices for these highly durable pellet mills.

(1)Main transmission is high definition gear drive;ring die is easy to be demounted,and be fixed by hoop.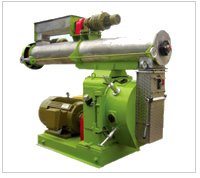 (2)High quality bearings and oil seal from Japan and Sweden have been equipped.
(3 )Electromagnetism or frequency conversion timing motor be equipped with material feeder.
(4)Stainless steel lengthen and overstriking conditioner;high quality.
(5)The material of ring die is alloy steel or stainless steel;be produced by advanced technics;service life is long;the pellets are smooth,and quality is high.
(6)Compensate spring coupling is safe,low noise,compact and less trouble.
(7)Stainless steel doors and flume;stretching cutter has tick marks;easy to adjust. All safe overload devices and caution marks are completed.
Feed pellet mill parameters
| | | | | | | |
| --- | --- | --- | --- | --- | --- | --- |
| Model | Motor Power(kw) | Capacity | Feeder Motor Power(kw) | Conditioner Motor Power(kw) | Ring Die Diamter(mm) | Pellet Siza(mr) |
| SZlh25 Pellet Mill | 15/18.5 | 0.5-1.5 | 0.75 | 2.2 | 250 | 2-8 |
| SZlh25 Pellet Mill | 37 | 2-5 | 1.1 | 2.2 | 320 | 2-8 |
| SZlh25 Pellet Mill | 55 | 2-8 | 1.5 | 2.2 | 350 | 2-8 |
| SZlh25 Pellet Mill | 75 | 2-10 | 1.5 | 2.2 | 400 | 2-8 |
| SZlh25 Pellet Mill | 110 | 3-12 | 1.5 | 5.5 | 420 | 2-8 |
| SZlh25 Pellet Mill | 132/160 | 4-20 | 1.5 | 7.5 | 508 | 2-8 |
Wood & grazing pellet mill parameters

| | | | | | | |
| --- | --- | --- | --- | --- | --- | --- |
| Model | Motor Power(kw) | Capacity | Feeder Motor Power(kw) | Conditioner Motor Power(kw) | Ring Die Diamter(mm) | Pellet Siza(mr) |
| SZlh25 Pellet Mill | 11*2 | 0.2-0.3 | 0.75+0.55 | 2.2 | 250 | 4-8 |
| SZlh25 Pellet Mill | 37 | 0.3-0.6 | 0.75+0.55 | 2.2 | 320 | 4-8 |
| SZlh25 Pellet Mill | 55 | 0.5-0.8 | 0.75+0.55 | 2.2 | 350 | 4-8 |
| SZlh25 Pellet Mill | 75 | 0.7-1.1 | 1.5+0.55 | 2.2 | 400 | 4-8 |
| SZlh25 Pellet Mill | 110 | 1.0-1.5 | 1.5+0.55 | 5.5 | 420 | 4-8 |
| SZlh25 Pellet Mill | 132/160 | 2.0-3.0 | 1.5+0.55 | 7.5 | 508 | 4-8 |