Rotary Drum Dryers,Wood Pelletizer,Pellet Packing Machine

Many seriesfor you feed machinery, Removable Gluey-Belt Conveyor Screw ConveyorType Scraper Conveyor Bucket Elevator Feeding Funnel 1) It is the new generation of good Gluey-Belt Conveyor which can be used with bulk and bag transportation.

2) The shelf adapts steel pipe welding structure which has good quality and nice appearance.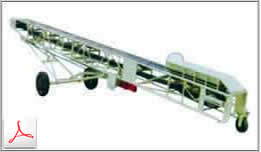 3)It is installed with automatic lifting device which is easy to operate and maintain.

4) The large and small tail wheel and running wheels are installed with rolling bearings.

5) The electrical control is very safe and stable.

6) It can be connected with Series or match with other warehouse equipments.

7) It is widely used in load and unload address which always is changed. Such as port, station, warehouse, farm, etc.

Type
TDSL50*2
TDSL50*7
TDSL50*10
TDSL50*12
TDSL50*15
Power (Kw)
2.2
2.2
3
4
4
Capacity (t/h)
75 m2/h (Bulk Transportation) 720 bags/hour (Bag Transportation)