MATERIAL:

(1)Suitable Coil Thickness: 2.0-3.0 mm
(2)Suitable Raw Materials: Q235 A
MACHINE COMPONENTS: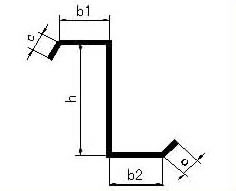 (1) Manual Un-coiler 1 set
(2) Leveling Device 1 set
(3) Roll-Forming M/C 1 set
(4) Hydraulic cutting (with four cutting mould) 1 set
(5) PLC Control System 1 set
(6) Product rack (un-powered) 1 set
TECHNICAL SPECIFICATION
Modle

Size Of Section

h(mm)

b1(mm)

b2(mm)

c(mm)

t(mm)

z100

100

50

54

20

2.0-3.0

z120

120

50

54

20

2.0-3.0

z140

140

50

54

20

2.0-3.0

z160

160

60

64

20

2.0-3.0

z180

180

70

74

20

2.0-3.0

z200

200

70

74

20

2.0-3.0
(1) Manual Un-coiler:
Un-powered; single head; max. Capacity: 3000kg;
Coil inner-diameter: 508mm
(2) Leveling Device:
It used for making the material flat before feeding into the roll forming machine.
(3) Roll-Forming M/C:
13main steps and 7 auxiliary steps to form; Material of Roller: GCr 15;
It can make all the size of profile in the table through changing the position of the rollers.
Voltage:380V/50Hz Forming speed:0-10m/min;
(4) Hydraulic Cutting:
Stop to cut ,Post cut Cutting tool material:Cr12,
tolerance of the cutting length 4mm
It has four cutting mould with the line.
If the customer wants to more cutting mould, he has to pay for the extra moulds.
(5) PLC Control System:
Using Mitsubishi PLC Control the quantity, length automatically, LCD screen,
Option Hydraulic un-coiler
Hydraulic system to expand coil inner hole;
Frequency Inverter to regulate turning speed,
Automatic stop device;Load capacity = Max.3Tons;
Suitable material for Production:
C & Z Purlin mainly use hot roll steel strip or hot dip galvanized steel strip at thickness 1.5~3.2mm. it is roll formed by C or Z shape roll forming machine
Working Flow:
Decoiling the Sheet—?Sheet Guiding —?Coil Strip Leveling—?Roll Forming—?Punching for
horizontal hole—?Punching for vertical hole —?Measure Length —? Cutting the Panel—?Panels to the Supporter.
Product feature and usage:
The products of C or Z shape purline forming machine have excellent anti-bending property and are
easy to install. They are widely used as the supporter of roof and wall in large-scale and mid-scale
construction, such as factory, warehouse, garage, exhibition center, cinema, theatre, garden and so on.
Wall & Roof Forming Machine
The Other